Is it time to change how you manage policies?
Printing out individual policies for employees to sign just doesn't cut it anymore. By switching to a paperless, online policy management system like PolicyMagic, you'll get the following benefits:
Standardized, up-to-date policies
Online access means you can view your current policies anywhere, anytime. No more shuffling through stacks of papers or countless Word docs for the latest version. You'll always know your employees are reviewing the current version.
Quick and efficient compliance
With just a few clicks you can create an Employee Profile for employees to review and sign policies. You'll never waste time waiting to onboard an employee.
Do you have policies that need a yearly review? Easily assign employees to a refresher to get a current signoff on their ongoing commitment to abide by the policy.
Save time and money
Why pay to print thousands of pages that will just end up in the recycling bin every time you need to update a policy? Worst of all, it takes so much time to distribute, collect and file all the paperwork. Save time and money by switching to a paperless online policy management portal.
---
How does online policy management work?
There are two parts to online policy management: setting up your policies and granting employees access to review and sign off on policies
How to set up a policy for online policy management with PolicyMagic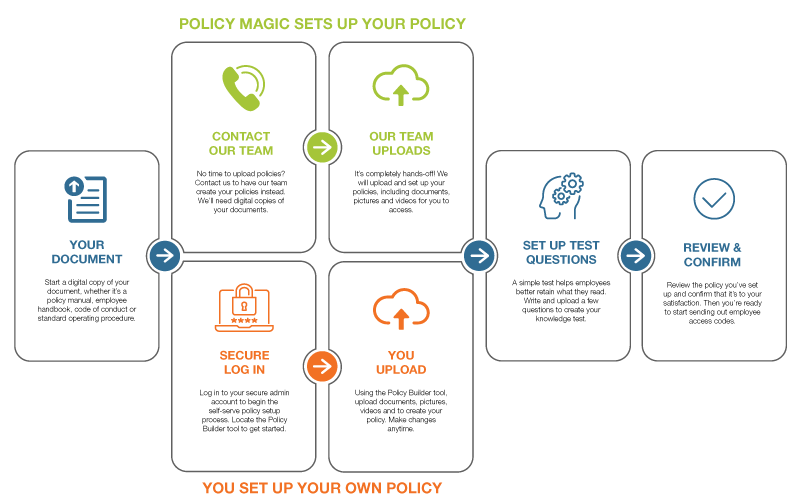 First, you'll need a copy of your policy in a digital format. You can use files like Word documents, PowerPoint presentations, PDFs, audio narrations, or video clips to create your policy.
Next, you can choose to either set up the policy yourself or have our team do it for you. If you choose to set it up yourself, you'll log in to your secure admin account. Follow the instructions in the Policy Builder tool to set up your policy.
If you would prefer our team set up your policy for you, just let us know.
Once you're happy with how your policy is set up, you have the option of creating test questions. A simple quiz helps employees better retain the materials.
How to grant employees access to review a Policy with PolicyMagic

First, log in to your secure admin account. From there, enter the employee's information, including their name and email address to set them up with an employee profile.
Next, you'll send an access code that will allow the employee to securely log in and access the documents assigned to them from any device.
Then the employee reads and reviews the policy. They answer any applicable knowledge test questions, helping solidify the information.
Finally, the employee signs off that they have read and agree to comply with the policy. The admin user can review this sign-off record at any time.